The Latest News And Reviews
Throughout The
Car Industry
Web Review: New F1 Teams
Is this post just a big excuse to mention that the US government might be bailing out USF1 to the tune of $100 million dollars? Yes, it mostly is. Our Great Red White and Blue hype has failed us, fellow 'Murrikens, but have faith, our Government may swoop in and save the day . . . oh, wait, yesterday was April 1st, wasn't it? Uhm, so this must be complete BS (an interesting jibe at American politics however), which describes the whole USF1-mess pretty accurately.

There are a few other new teams in Formula One this season, actual, functioning teams, with cars and drivers and everything! Virgin Racing, Lotus F1, and Hispania Racing Team have made it to both rounds of the 2010 F1 Championship. They have had a tenuous introduction to F1, these new teams, as evidenced by how many of them have actually finished a race -- Lotus has seen one car finish twice, and HRT's Karun Chandock was able to take the checkers last weekend in Melbourne. Virgin, arguably the prettiest of the new cars, has yet to finish a Grand Prix. A side-note, Prodrive (famous for campaigning Subaru's now defunct WRC team, as well as DB9.Rs and 550 GTs for Aston-Martin and Ferrari) has thrown its hat in the ring for 2011. Supposedly they had a car prepared for 2010, so their addition next season should be a successful one, assuming it even happens.

Within this post we review the new teams and their websites, if they have a website. Intrigue to follow . . .
<! -- Read More Anchor -->
<! -- /Read More Anchor -->
Lotus F1 Team: The race in Sepang this weekend could be considered the "home" event for the Lotus F1 Team. A consortium of Malaysian and British investors owns the team and its crew is a mixed bag of seasoned F1 veterans, both Malaysian and British. The car is constructed in Britain, but Lotus F1 is working on a team base at the Malaysian Sepang circuit.

Their website is NOT "No Script" friendly. Keep your nosy-ass pop-up blocker on and you will see exactly jack-ess. Turn the nanny off, and you are presented with a wealth of green and yellow-liveried knowledge, images, and race updates. The team keeps fans informed on every occurrence at the track, from the progress made by reserve (and Malaysian) driver Fairuz Fauzy to the free-bees they are handing out in their paddock. Over all, a pleasant, if not convoluted, website to peruse.

The car is sleek and purposeful, though it appears to be a little simplistic when compared with the Ferrari or McLaren machines (seriously, everything looks simplistic next to those cars). The team has applied several updates to the car this week, and has enjoyed a few successful practice sessions already. Good luck to Tony Fernandez, Mike Gascoyne, and everyone involved in Lotus F1 Team!


Virgin Racing: A car designed with zero wind tunnel testing is absolutely unheard of. Nick Wirth, of the appropriately named "Wirth Engineering" (responsible for the Acura prototypes we know and love), designed the Virgin VR-01 using Computational Fluid Dynamics . . . and nothing else. Well, ess; USF1 at least got that far! Though the car has yet to finish a race, and is apparently laden with a fuel-cell two sizes too small, it is a darling machine to look at. Debatable, but I think this is the most attractive implementation of the "nose-wings" theory; whereby the sides of the nose-cone and front chassis are raised in an attempt to create downforce on the nose of the car. First used by Red Bull, but now fairly common in the paddock, this solution makes for a sexy shape and a futuristic feeling. But USF1 was going to fit their car with freaking Baja-shocks and it was designed to release ice-cream and puppies from its exhaust instead of CO2 . . . ahhrrgghh, sry . . .

The Virgin Racing website is everything the USF1 website was supposed to be. Colorful, menacing, and well put together, this is arguably the best website in F1 (McLaren's is really the best, Force India's the worst.). Virgin has employed a dedicated PR staff, and they have done a bang-up job making the best out of a bad situation. Unable to finish races so far, Virgin had better be sporting a sweet website!

Virgin has turned out to be a fairly honest competitor, when compared with other, ultra-secretive F1 teams. When it was revealed that the fuel-cell was too small for the car, Nick Wirth stepped up, admitted there was an issue, and then charged the redesign to his own firm, Wirth Engineering, instead of charging Sir Richard. Classy move. On their website, the listing for their finishing spots in specific Grand Prix shows a large "DNF" for both drivers for both of this year's Grand Prix. They are playing down nothing!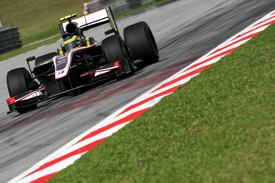 The car has shown glimmers of competitive pace on track, and their PR machine has shown that they are serious about competing and winning (eventually . . .). Hopefully this team is able to put together a string of good finishes by the end of the 2010 season; the 'Shopper wishes Richard Branson, Nick Wirth, and the entire team God-Speed and good luck!

Hispania Racing Team: This website is still under construction. So under construction that it lists a team name that is two iterations old. They finished a the race last week, but I ain't gonna hype them if they aren't gonna hype themselves.
Photo Gallery
(click a thumbnail to enlarge)
Sources: Lotus F1 Team, Virgin Racing, Hispania Racing Team
Posted In:
Miscellaneous
,
Racing
,
Car Reviews
Tags:
Formula One
,
F1
,
Virgin Racing
,
Hispania Racing Team
,
Lotus F1
,
HRT
,
USF1
,
Mike Gascoyne
,
Tony Fernandez
,
Sir Richard Branson
,
Nick Wirth
,
Wirth Engineering
,
Acura
,
F1
,
formulaone
,
virginracing
,
hispaniaracingteam
,
lotusf1
,
mikegascoyne
,
tonyfernandez
,
sirrichardbranson
,
nickwirth
,
wirthengineering
,
Ferrari
,
McLaren
,
Force India
,
forceindia
,
newf1teams
,
Prodrive
,
prodrive
Leave Comment
Comments
Leave A Commment