The Latest News And Reviews
Throughout The
Car Industry
Mopar Releases Meanest Challenger Yet, Uhm, From Mopar Itself Anyway

One of the problems with America is that we just can't accept a good thing and then leave it well enough alone. Mopar (Dodge, whatever) has seen its darling baby, the Challenger, hacked to pieces by every tuner from the reputable, Hennessey and Steve Saleen, to the less than reputable.

So, just like last year, Dodge has decided to produce a limited run of 'Drag-Pack' Challengers. Perfect mod's for a slightly hampered muscle car? Or total waste of money and engineering effort? You be the judge, inside the post . . .
<! -- Read More Anchor -->
<! -- /Read More Anchor -->

The biggest bag-o-suck associated with the Dodge Challenger is how effing porky it is. They kept the Camaro under two tons, and for all we know they've been cooking and abusing crack down in the Millennium building for 20 years. Yeesh, how could a person not assume there is some baking-soda/cocaine gestation going on there? Have you seen that part of Detroit? Yukk.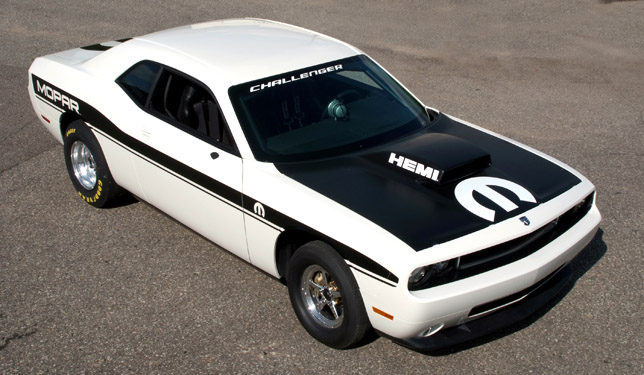 So, for their $39,999 Challenger Drag-Pack, Dodge removed significantly more parts then they added. Though they did add some jewels. Gone are airbags, power windows, and an audio system. Who needs 'em? In their place Dodge has added specific drag-race components, including composite lift-off hood with functional scoop, polycarbonate door windows, lightweight cooling module with electric fan, manual steering, special lightweight front-brake assemblies, and cable-operated throttle linkage and pedal assembly. Cable-operated throttle?! Scha-weeet! Rather "old-school", just like drag-racing itself. Your opinion of that is up to you. Personally I kind of like the mechanical connection to my gasoline use, thank you.

Message boards and the innerwebs have pointed out most of the flaws in the 'Drag-Pack' Challenger. It isn't street legal. The 2010 Ford Cobra-Jet will eat it for breakfast. Neither transmission choice (6sp. man, or 5sp. auto) is really up to the abuse of drag-racing, the car still weighs over 3,000 lbs. Those are all valid points of argument, but they can all be countered. The Cobra-Jet is more expensive and significantly more track-focused. There are modifications to the transmissions that Dodge is not releasing the details of. Assume they are substantially stronger pieces than the trannies available in run-of-the-mill Challengers. This car is meant for weekend-warriors, not Tony effing Schumacher. It's a product that fits a pretty cool niche, and frankly, exactly what else does Chrysler have going for it? Nothing, precisely, let them have their straight-line fun!
Photo Gallery
(click a thumbnail to enlarge)
Sources: Automotive News
Posted In:
Racing
,
Special / Limited Edition
,
Videos
Tags:
Mopar
,
Dodge Challenger
,
Challenger Drag Pack
,
Don Garlits
,
Chrysler
,
Dodge
,
Fiat
,
Ford Mustang
,
Ford Cobra Jet
,
dodgechallenger
,
challengerdragpack
,
dongarlits
,
fordmustang
,
fordcobrajet
Leave Comment
Comments
Leave A Commment