The Latest News And Reviews
Throughout The
Car Industry
The Good, The Bad, And The Ugly: F1 Test-Days Edition
Re-fueling ban appears to have leveled the competition;
USF1 is in dire straits;
and Chad Hurley is a ship-jumpin' punk and a half . . .
<! -- Read More Anchor -->
<! -- /Read More Anchor -->

The Good: Brad Spurgeon, of the New York Times, has brought to light an interesting chunk of F1 'could-be-something'. In the process of analyzing the time sheets from the last two week's practice, he has noticed some interesting things and pointed out some nice theories.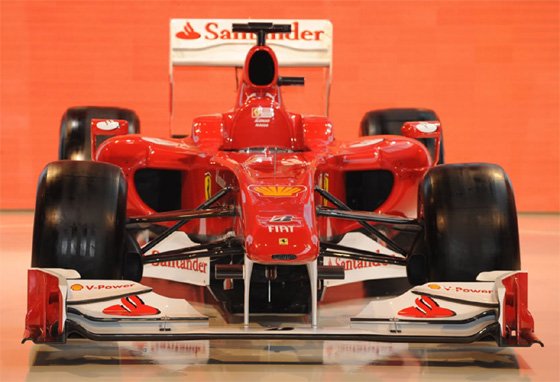 Ferrari dominated the first test, but they used a large amount of bits from the 2009 car, and started working on 2010's contender the earliest (as far back as June of last year). It was an expected outcome for the first week, which makes the results of the second week, well, weird. No single team dominated for any length of time. Sebastian Vettle was the fastest one day, Rubens Barichello the next. That would be Red Bull and Williams, not Ferrari and McLaren.

Spurgeon offers an interesting take: the teams are playing with varying fuel loads. What if the Renault V8 really is getting the best fuel economy? Then their lack of power could be offset by lack of weight; starting the race with slightly less fuel than everyone else. So the Cosworth may not make right at 830 bhp like everyone else, it's more compact than other motors, can sit low in a chassis, and may just be more efficient than the Renault. All of that remains to be seen; what we can count on, I think, is a level playing field for at least the first three Grand Prix.

The Bad: USF1/USGPE has taken Campos's spot as the "New team most likely to never produce a GP car." According to rumors they have dismissed their first signed driver, Jose Maria Lopez, and have canceled their scheduled crash test next week. It doesn't look good. There are even rumblings that Chad Hurley, co-founder of YouTube, may be taking his sponsorship over to Campos. Scum; more on him later. The first thing I did in the office this morning was write them an encouraging email; here it is.

"So, rumors suck guys. They suck really bad. That's okay. I've followed you guys religiously for two years now. I've blogged extensively on your progress- to the extent where I found myself checking your website in the middle of the night just so I could scoop AutoBlog and Jalopnik on USF1/USGPE news. Nobody besides my co-workers and friends read my blog, I know, but I still want to be the first to report on America's F1 team.
It appeared that everything was going great, until the end of January. Is funding the issue? There is a nose cone, it looked fine, you had Revale in to wire the car. Then I took a closer look at that tub. Ohh no, that tub didn't appear to be coming together well at all. The side pods were 'mock-ups' at best, and the interwebs has given me the impression that maybe the gearbox was a mock-up as well. Damnit, that gearbox was on its way to being the most impressive innovation in F1 this entire season. More impressive than Lotus's forward-angled suspension. More impressive then McLaren's tub. More impressive even, than Mercedes's roll-hoop/intake. Our car was looking good, Peter, it really was looking good.
I can't understand why it seems the whole world is determined to see USF1 fail. Speedtv.com can't get enough of it. European news sources circle like sharks and spew vitriol at every opportunity. Even that punk Chad Hurley (according to rumor) has abandoned what could be considered his "baby". He has the money to fix every problem USF1 has, we all know that. YouTube has the clout to be a title sponsor. Mr. Windsor is completely devoted to advancing American interests in Formula One, why isn't this AMERICAN who pledged so much false support towards the end of 2008?
I'm baffled, but optimistic. I've put in to much of my own time and energy not to continue to support USF1. Maybe that was mistake, attaching the acronym 'F1' to the name in the first place. Certainly Mr. Ecclestone would never allow his precious copyright to be associated with anything headquartered in the good 'ole US of A. Sigh.
Never stop recruiting investors, guys, even if there are GPs missed. Let Lopez go, you need American drivers and there are plenty who are capable, just not well funded. I betcha Graham Rahal might come cheap, and might be a name large enough to pull down serious sponsorship if he were to be linked to F1-anything.
We here at http://blog.autoshopper.com are still behind you 100%. Our articles prove it. I won't stop propping up USGPE (I prefer that title, sry) until this URL disappears. If you have a ten-year license then I will report on an American F1 project whether the car has turned a lap or not. You have too much equipment there in Charlotte, too many people on staff, too much publicity, good and bad (though even 'bad' is good in this case). If you need a free, press-savvy hype machine, let us know. You've seen our IP hit your address five times a day, everyday for a year now. We aren't going to give up if you won't.
Your employee-in-spirit,
JD Welch"

The Ugly: Chad-effing-Hurley. You jerk. I don't care what issue you may see developing with USF1, YOU sir, have the ability to fix all of their problems yourself. You could have a while ago. There isn't anything (well, now they're losing talent, talent that needs to be PAID Chad . . .) that is wrong with USF1 that you couldn't fix by throwing money at it. You're an American even, and you've allowed yourself to be linked to a Spanish team?! What the hell, Chad, "God Bless Ken Anderson", my ass! I should have taken that damn Microsoft-cert class and made a gazillion dollars too, I guess. That way, I could step in and save the most exciting American racing-enterprise since AAR.

It's a sad day; I have no clue whether USF1 will make it or not, no clue. I'll tell you, just like I told them: I will not lose hope until their URL ceases to function. Then it's time to booze it up and root for Nick Wirth and Virgin Racing!
Photo Gallery
(click a thumbnail to enlarge)
Sources: The New York Times
Posted In:
Good, Bad & Ugly
,
Racing
,
Reports
Tags:
USF1
,
Windshear
,
USF1 Type1
,
F1
,
Formula 1
,
Formula One
,
USF1
,
usf1type1
,
formula1
,
formulaone
,
Renvale
,
Ferrari
,
Lotus
,
Mclaren
,
Virgin Racing
,
virginracing
Leave Comment
Comments
Leave A Commment