The Latest News And Reviews
Throughout The
Car Industry
F1 2010, Ferrari, And McLaren Launch 2010 Cars First
Aww geez, JD's Christmas wasn't in December. No, JD gets most excited (gnashing teeth, sweating bullets-excited,) right around the middle of March. The boiling point will be reached on March 12th, 2010: first day of practice for the Bahrain Grand Prix. The Bahrain GP grid will contain a renewed, Maylasian-flavored Lotus, Richard Branson and John Booth's Virgin/Manor Racing garage-project, Adrian Campos-GP2 owner turned F1 owner, and (covered exhaustively by the 'Shopper Blog) the first American-manufactured F1 car since Dan Gurney's Eagles pounded European pavement in the late Sixties.

As of Friday, January 29th two teams have held public launches of their 2010 contenders; not surprisingly, Ferrari and McLaren are the first out of the gates. Venture inside yon post for all of the angular, massive winged car-stag . . .
<! -- Read More Anchor -->
<! -- /Read More Anchor -->
The first two 2010 F1 cars available for public consumption offer many intriguing clues as to how every 2010 car will be dealing with the new regulations. (For 2010 the FIA has banned in-race refueling, KERS, and wheel spats) Both the McLaren and Ferrari show several interesting departures from their 2009 counterparts.

Review the images yourself; they're very telling, yet extremely sneaky. Both Ferrari and McLaren positioned their cars so that the press could not get a good look at the rear of each car. Specifically, the famous "double diffuser" hanging off of the ass of each car. McLaren went so far as to build a carbon fiber blocking-plate to ensure that no one would get a look at its diffuser design.


Interesting updates we can see include the Red Bull RB5-esque V-shape that Ferrari has added to its tub. They have also raised the tub itself, and the position of the driver, clearly influenced by last season's Red Bull chassis. This feature supposedly centralizes the air flowing over the tub, essentially creating a block of high-pressure air that pushes the nose ever closer to the track, significantly increasing downforce. The front wing is substantially redesigned also, including ballast pockets similar to the RB5. Adrian Newey (Red Bull chassis designer) should be pissed at Maranello . . .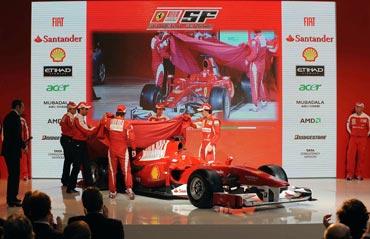 The McLaren also features some new design ideas, foremost the new splitter that resides under the nose cone, between the posts that the front wing attaches to. This feature is wild looking. It appears to me that it may increase drag to a certain degree- however, McLaren designs race cars and I just bitch about them. My thoughts about 'drag' are uninformed, at best. The MP4-25, following the MP4-24 of last season, also features narrowed side pod openings, a lengthened wheelbase, and what is rumored to be a very radical diffuser design. Peruse the image gallery but watch the clock, these cars are straight-up 'Time Vampires' . .
McLaren's 2010 Official Launch
Ferrari 2010 Official Launch
Photo Gallery
(click a thumbnail to enlarge)
Sources: Racecar Engineering, Racecar Engineering
Posted In:
Racing
,
Reports
,
Videos
Tags:
F1
,
Formula One
,
Ferrari
,
McLaren Mercedes
,
Mercedes Benz
,
Bahrain
,
Bahrain Grnad Prix
,
F10
,
MP4 25
,
Fernando Alonso
,
Fellipe Massa
,
Louis Hamilton
,
Jenson Button
,
f1
,
formulaone
,
mcLarenmercedes
,
mercedesbenz
,
bahraingrandprix
,
f10
,
mp425
,
fernandoalonso
,
fellipemassa
,
louishamilton
,
jensonbutton,
Leave Comment
Comments
Leave A Commment