The Latest News And Reviews
Throughout The
Car Industry
The Good, The Bad, And The Ugly
Buick releases a car that has yet to be sullied by water-headed American designers, this new, desirable car might be too little too late, and Whitacre Jr. decides GM exec's deserve a pay raise, already . . . what is the deal with GM's crappy timing/insatible greed?!
<! -- Read More Anchor -->
<! -- /Read More Anchor -->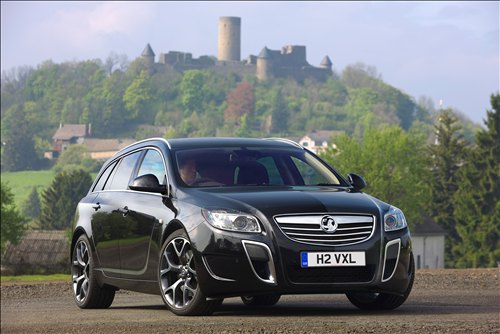 The Good: Designed in Germany, and only slightly modified for the US and Chinese markets, the Buick Regal represents a serious attempt by GM to capture some stake in the entry-level 'premium' car market. Riding on a wheelbase four inches shorter then the La Crosse (a car which looks good, from ten feet away . . .) the Regal is meant to attract a slightly younger buyer, maybe some 'hip' clientele. This Opel Insignia based offering is a valid attempt, assuming we ('Murrikens,) keep our cheap, tasteless hands off of the interior.

There is a lot of hidden potential in the new Buick Regal. Though the engine choices are limited to what appear to be re-engineered Saab engines initially, there is the potential for some pretty hawt models down the road. Covered in a previous post, the Opel and Vauxhaul versions of this car can be optioned to the gills with go-fast equipment. AWD, 2.8 liter, 321bhp twin-turbo V6, taunt suspension, wagon options. Sounds like a recipe for a seriously schweet ride, right? Here's the rub: will GM deem the performance options worth the added cost of importation to America? The engine is from Holden (Australia) the drivetrian is mostly Saab derived, and we still haven't shown any patients for wagons. Will the US buyer finally wise up and purchase enough of GM's competitive automobiles to keep another G8 fiasco from happening?

After all, it's our own cheap-ass, lazy buying tendencies that spoiled GM into thinking every American would pay $60,000 for $10,000 dollars worth of truck. Analytics derived from consumer tendancies caused GM to dream up unthinkable rebates and no interest programs designed to keep their ridiculously out-dated passenger cars flying off of showroom floors . . . It's our own fault sure, but guess what GM? Slowly, we are waking up to your grift, we aren't going to buy unnecessary trucks by the billions anymore, and we demand more quality from our autos, at any price point. Get with the program and make the Regal appeal to people like me (albeit, with educations and five figure bank accounts,) and you've got a hit on your hands. It's certainly easy on the eyes . . .

The Bad: Is the Regal too little too late? Before the obscene success of the Camaro, I would say "yes". Nowadays, it appears "Camaromania" may have staved off the Reaper, for a while. One car does not a 'turnaround' make however; GM doesn't have the luxury to build crap anymore. They literally can't make enough Camaro's cheap enough to fix all of their problems, but it is a good start. The next step is vehicles like the aforementioned Regal. As this blog has endlessly stated, the La Crosse has a few bright spots, but it really is just more of the same corner-cutting that put GM in this mess to begin with. You cannot endow a Lexus-fighter with Grade-F plastics, you just can't! My hope for the Regal is that the German supplied materials stay intact, and that the option list available to our Bavarian brothers remains fairly unmolested. That's a tall order for a company who's bureaucratic insolence knows no bounds.

Wait, what? GM is owned by the tax payer you say? News Flash for the Tax Paying Public: you got screwed. You'll see zero return on investment, and the federal government will be largely ineffectual at the business of curbing executive greed. If Gm, a company who actually produces goods, unlike all the mostly-foreigner run banks we ponied up billions to save, isn't going to be able to see through their own bureaucratic smoke screen- then none of the "bailout" beneficiaries are ever going to reciprocate what they owe the American tax payer. Ever.

Soo glad Bush was more worried about stamping out gay-rights then ensuring privatized social security; thanks for having effed-up priorities Religious Right. I'm really glad I can have the honor of taking care of you scumbags in your old age, whereas I'll be dead of consumption before reaching any sort of "old age". Awesome. You really showed those dastardly Queers, at the expense of my retirement. Was it really that important? . . and that moves us on to THE UGLY . . .

The Ugly: Apparently GM is completely out of the dark. They must be if Whitacre is publicly requesting modifications to the GM executive pay structure.

"To find top-level people where you need them, that's a more difficult thing to do at that salary level," 'ole Tex Whitacre said in a speech given yesterday at the Texas Lutheran University . "I don't think (the caps) will be lifted, but hopefully they'll be modified."

Modifiy this Suck-Face: Fire your entire vehicle development department. Hire me. I'll take $100,000 a year, and I'll prevent you from turning out garbage on top of garbage. Just because a person demands an exorbitant wage, doesn't mean they're worth it. Just because a person possess a piece of paper stating they have "earned" some sort
of degree, doesn't mean they're frikkin' Nostradamus. This b.s. line about enticing the top level players available is just that: BS! Take a look at other successful industries, the NFL for example. The trend has been to bring in new blood in the NFL- give the "top-level" positions (re: head coach) to new blood. Young talent that will accept less money for an opportunity; executives that will appreciate the chance to stuff a foot in the proverbial door. Obviously you don't cultivate the best and brightest there at GM, and, looking around the rest of the industry, "the best and brightest" are most likely still in college. You aren't going to find Allen Mullay in the trades guys, sorry.

There is a growing section of educated engineers and accountants here in America, howabout you just shut up about raising the pay of the undeserving, and save it for a few years down the road, when you have a leg to stand on! And put that freaking turbo motor in the Regal, no matter what it's initial cost!!!
Photo Gallery
(click a thumbnail to enlarge)
Sources: Motor Trend Online
Posted In:
Good, Bad & Ugly
,
Miscellaneous
,
Reports
Tags:
Buick
,
buickregal
,
lacrosse
,
Ed Whitacre Jr
,
GM
,
generalmotors
,
edwhitacre
,
vauxhaul
,
VXR
,
opel
,
opelinsignia
,
holden
,
holden insignia
,
Regal,
Comments (1)
Comments
Leave A Commment