The Latest News And Reviews
Throughout The
Car Industry
Tampa International Auto Show Pt.3; In Which We Learn That Bankruptcy Is Not A PreReQ For Building A Rubbish Interior
So far we have gushed over Lamborghinis and Camaros, completely panned pathetic Buicks and Chryslers, and have had some kind words for Kia and Subaru.

After the Chrysler booth I was desperately low on blood sugar, a feeling that may have been exacerbated by my utter disgust at what I saw in the Chrysler booth. Moving on to Ford, I was hoping that a financially solid American company was going to turn my frown upside down. It did, sort of.
<! -- Read More Anchor -->
<! -- /Read More Anchor -->

Ford has done an excellent job of reinventing itself, both in the media and on showroom floors. New Ford products look exciting, but you can't blame us for being a bit cynical. I'm the previous owner of a '98 Escort Wagon: I know first-hand the sort of garbage Ford would unleash on the unsuspecting public.

Much removed from 1998, I was hoping that Ford's resurgence was more than a publicity stunt, that Allan Mullay had actually reinvigorated Ford's products and not simply invented a superior ad campaign. I had my doubts going in. "Ecoboost" is a term wrought with peril. The line "V6 economy with V8 thrust" is extremely misleading. Case in point: A 2010 Taurus SHO gets 17 mpg in the city, whereas a 2010 Corvette has two more cylinders, ancient architecture (pushrods for gawdssakes) and manages to average 20 mpg in the city. Hhhmm, this leads me to believe that Ford is trying to dupe what it feels is a lazy consumer market full of research-adverse Americans. Mind you, the Ford Mondeo meets all of the benchmarks the Taurus is trying to set, and is a dynamically superior car.

There were several bottom-rung Tauri available on the show floor, and they all seemed to represent good value for the mone
y — if you're a family type. I'm not, where's the damn SHO?! Oh, there it is, on a display pedestal eight feet in the air so as to prevent any greasy fingered Floridians from climbing aboard and doing . . . what exactly? It's not like the keys are in the thing. The driver's side door was open however, so I could at least evaluate the difference in trim between this Taurus and its pedestrian siblings.

Feeling along the door panel I was all ready to be impressed, and then it happened. I came across the armrest door pull and my hopes were ess-canned. All of the nice rubberized plastic that is covering the door is ruined by the same hard, cheap plastic we mentioned during the Buick review. Only worse. Whereas the Buick made attempts to hide its cheapness by placing crappy panels where they may not be touched all that often, the Ford Taurus has acres of the stuff on its door panels. Judging from my dealings with the lesser Tauri, your $35,000 SHO is only marginally nicer than a Kia, and at FOUR thousand pounds, only slightly more swift. I must know: how do I get in contact with the corporate crack dealer making waves in Detroit? He must have the whitest snow because GM, Chrysler, and even Ford are very very high! I refuse to believe that the people who can actually afford these cars are any dumber than me. Having made enough dough to be able to purchase a $30,000 anything, I assume these people are smart enough to do a little cross shopping before purchasing their car. If they are, then we are gonna see a whole mess of new Subarus on the road shortly, and zero La Crosses or Taurus SHOs . . . by the way, it's S-H-O, not "show," I don't care what the commercial says, they're only using the word "show" because they hope you're stupid and not bright enough to use an acronym for "Super High Output" over the thugabilly term you overheard your neighbor's dropout utter as his best friend pulled up in his new BuyHerePayHere special. The original Yamaha motors deserve more respect than that . . .

Frankly, this was too much to stomach. We really should just let our auto industry collapse because they are NOT trying hard enough. From Ford (for Lincoln info, please see Tampa International Auto Show Pt.1 and refer to the quote on Acura) I moved over to Hyundai. Here we have a collection of cars that absolutely offend my fragile little eyeballs. All of their small cars are ghastly and the Genesis Sedan and Coupe aren't winning Miss Hawaiian Tropic either. As I've said before, I think the front end of the Genesis Coupe is one of the ugliest design disasters to befall a decent car in a long time. Seeing it in person did little to change my opinion. Thankfully for Hyundai, "beauty" is relative and these cars have so much going for them mechanically that their looks have little to do with my feelings toward them. Both Genesis variants are nice; the interiors of these cars seem impossibly expensive and plush when compared to much more expensive American competitors. Who in their right mind would buy a $37,000 SHO when, for three grand less, they can get a V8, rear drive, relative anonymity, and a pleasing interior?! The Genesis Sedan is only ten horsepower down on the SHO (375bhp as compared to 385bhp,) but it weights 300 pounds less, negating any performance advantage the Taurus may have had. I'm not making this crap up, people. The Hyundai is superior in every respect!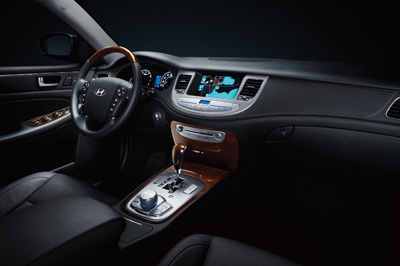 One thing I was worried about with the Genesis Sedan was the swooping sheet of leather adorning the dash of seemingly every press car released. Hyundai was smart enough to bring an example that had this option deleted. I think the plain dash, while not as visually stunning (again, up for debate. Many at this office feel the leather swath gives the Genesis a mid-nineties Oldsmobile look — not good!) is the better choice for climates like Florida. The base plastic is better than anything found in American rivals, and it appears to be tough enough to avoid fading and cracking in the sun. On both Genesis Sedan and Coupe, however, there are big sections of black plastic molded into grille and fascia openings. I could immediately conjure a "mind's-eye" vision of that plastic after two years of baking in the Florida sun. No longer black, it has now taken on a decidedly grey patina familiar to any Floridian who drives a cheapo crossover or SUV which didn't come with "body-colored" bumpers. The black gloss fades to dead-fish color pretty quickly down here, and I think these Hyundais will be victims of just such an occurrence.

An interesting observation: Both Hyundai and Toyota removed all of the knobs and switchgear relating to transmissions or NAV screen use from their display cars. Shift knobs and hand toggles were replaced with nothing, leaving naked stalks jutting from center consoles. Way to let us know you don't trust us jerks; next time you can just post a sign: "Dirty American Scumbags, Please Ignore Warranty Information As We Will Find A Way To Get Out Of Honoring Any Claims. You're All Crooks, And We Fastidious Asian Car Makers Know It! What Do You Need A NAV Toggle For? You Probably Can't Even Read The Manual . . ." After seeing the American cars, shift levers present, I might tend to agree. We probably wouldn't even bother opening the manual . . .

I really wanted to examine the tactile feel of the Genesis Coupe's interior, unfortunately it was completely mobbed the entire show. I couldn't get anywhere near it. From a distance, it looks to be as high quality an execution as the larger Genesis Sedan. From the driver's seat of the Sedan, I was happy as a clam. Though I don't expect all of the options that come with the Genesis Sedan, the materials inside the Coupe are at least up to snuff. Ford, you're in trouble too.


From Hyundai I sauntered over to good 'ole Volkswagen. Now here we have a company that knows how to screw a interior together properly. The Passat CC is a whale of a car, both inside and out. The sheetmetal flows over the mechanicals with a pleasingly organic motion, bulging in the right places yet managing to stay svelte where (most notably, toward the end of the D-pillars) most family-boxes swell. The taillights are an interesting design, not the Mercedes rip-offs adorning most front drive family-purposed sedans (Honda Accord?! Toyota Camry??! Hellooo!!). Inside we find an upholstery treatment worthy of a Bentley. The two-tone seats that come off as slightly arrogant in Passat commercials are actually surprisingly understated. The busily-sculpted front seats remind one of a Ferrari more than a mere Volkswagen. The only downside is the price. This is not a cheap car, but in the end, you get what you pay for.


Other nice VDubbs include the new GTi (VW really does have interiors down pat; the plaid pattern available on GTi seats is kewl beyond kewl) and assorted diesel models, which we will soon see more of on the road . . . hopefully.

By this time it was getting to be a little later in the day and I couldn't help but notice that the car I wanted some alone-time with the most, the CTS-V, was suddenly devoid of slack-jawed gawkers rubbing their grubby fingers all over her sensuously right-angled flanks. Throughout the day I had peered longingly at the Cadillac booth, hoping the unwashed masses would get hungry or bored or both, and leave the CTS display all to me. Suddenly, the time was right, the crowd had vanished; I was on my way to pay homage to the last bastion of American Automobile Excellence.

And, oooof course, this enthusiasm was met with slight tinges of disappointment as well. Make no mistake, after becoming intimate with the insides of a CTS I can say without a doubt it is the finest Cadillac ever. If I had a disposable 60 grand I wouldn't think twice, the CTS-V would adorn my driveway in one form or another. I would go for the wagon or coupe instead of the sedan were those options to be available, but a CTS-V, one way or another. Let's hope that little vote of confidence softens the blow of what I'm about to say.

Much like every other GM product I had sampled over the course of the morning, the interior of the CTS is fashioned from balsa wood. "Piano Black Trim" is a fancy way of saying "cheapocellphonehandsetplastic." It sucks and it covers three fourths of the CTS-V's innards. Besides picking up a smudge from every finger that touches it, this material looks like it will develop new scratches on a daily basis. Ever sat in a well used RSX? Yeah, exactly, only shinier. This trim would NOT be my choice.

The instrument bezel has what can literally be described as a cardboard visor shielding it from glare. This is an especially cheesy accoutrement; it is thin and flimsy and is covered by leather that feels like it was donated by a house cat. Same goes for the leather on the doors and center console; somewhere somebody's "precious poopsie" is catching a draft.

N
ow we come to the things I like . . . no, LOVE about the CTS. This goes a long way to explain why GM hurts me so much, why I give them a slightly easier time then I do Chrysler or Ford. The CTS has an aura about it that no product from either of the other domestic brands can match. Sliding down into the driver's seat, the CTS feels special, even to a jaded car reviewer who has just panned every inch of the materials he is currently surrounded by. The CTS fits me. Not just physically, even though the seats are magically the right size and bolstered in the right places. The gauges speak to me, the enormity of the car melts around my shoulders as if it's an amoeba and I'm the juiciest morsel of protein on the protoplasm block. Even stationary, the CTS makes me feel as if I am a part of it.This car was optioned with flappy paddles; they were placed perfectly and follow the correct ergonomic order, right for upshifts, left for down. The steering wheel is sized just right, the electronic seat controls allow you to set a perfect driving position. From behind the wheel this is the only American car (besides the Camaro) that forcefully dissolves all of my dislikes and replaces them with burning desire.

It occurred to me that I had better remove myself from the CTS-V before standing up in tight jeans was no longer an option. That's how thoroughly this car connects with me. I felt like one of those weirdos who want to marry and have intercourse with inanimate objects. It was creepy.


Extracting myself from the cockpit was easy, even though the CTS-V is almost as low to the ground as the Corvette. Scanning the outside of the car I came up with a few likes and a few dislikes. Namely, I love the rectangular treatment given to the bottom corners of the front fascia. This design element lends the CTS-V a hard nosed, industrial MadMaxian look that I find beautiful in the same way some people find abandoned factories to be beautiful. Not for everyone, but definitely for me. I did not know quite what to make of the combination "thirdbrakelightspoiler" doohickey pasted on the trunklid. The crappiest thing here is that this piece is solidly engineered into the trunklid, and cannot be removed. Meh, I don't completely hate it, and my V Series Wagon wouldn't have it to begin with.

Speaking of that Wagon, Cadillac had a Sport Wagon on display. Nailed it. They just plain nailed it. Standing still it looks like it just burst out of Blade Runner and is ready to go hunt down rouge androids. Wagons are kewl as hell, why don't we like them? Never understood that . . .
Photo Gallery
(click a thumbnail to enlarge)
Posted In:
Auto Shows
,
Reports
,
Car News
Tags:
Ford
,
Taurus
,
Hyundai
,
Genesis
,
Chyrsler
,
Volkswagen
,
Passat
,
CTSV,
Leave Comment
Comments
Leave A Commment